Hello gorgeous! Having fun with perfume post, today I'm gonna share another recommendation of body care range and perfume with my favorite scent: Floral, specifically Rose.
Who doesn't love floral scent? I believe even though everyone has their own style in fragrance, almost everyone love floral. It's fresh, reminds us of relaxation and good times, right? It applies on me to, whenever I'm stressed and needs to refresh my mind I seek for floral scent. One of my favorite from floral family is rose. Its surely fresh and feminine. L'occitane has some products under this Rose variant, let's get to know them!
L'occitane is a French luxury skincare brand with high-quality manufactures, organic-based skincare products, surely expensive but worth every penny you spend.
L'occitane Roses Et Reines Body Milk
Claim: This body milk seduces with its delicate softness and perfumes the skin with the fresh and velvety fragrance of the Grasse, Bulgarian, Moroccan, and Turkish roses. Rich in nourishing grapeseed oil, this light body milk absorbs quickly, leaving the skin soft to the touch.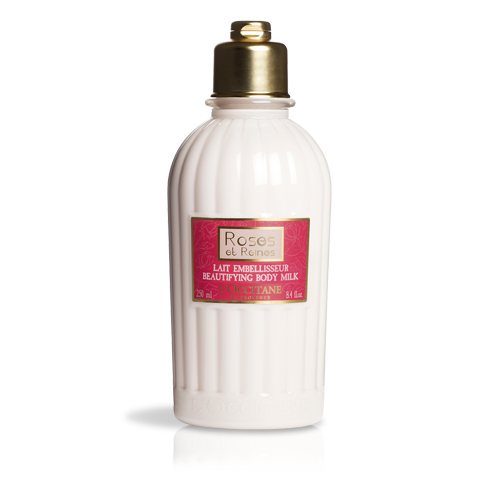 This body milk comes in a cylindrical sturdy plastic bottle with flip-top cap, and comes in multiple size. I really love how they thought about the packaging sizes. It suits you at home and when you're traveling. For someone like me, I'll get both since I want to smell good when I'm wandering around.
It comes in baby pink color (pale i can say) with runny consistency and watery texture. Not to wonder why it is very easy to apply and spread evenly over my skin. It would provide you perfect hydration while keeping your skin soft and moisturized. The best suggestion is to use this within -10 minutes after bath.
The fragrance has mesmerizing fresh velvety rosy fragrance, which is neither too sweet nor over scented, one of the nicest rosy fragrance I've ever tried.
Price: IDR 190.000 (75ml) / IDR 500.000 (250ml)
Rose Et Reines Bath & Shower Gel
Claim: this shower gel gently cleanses the skin, leaving it delicately perfumed with the fresh ad velvety fragrance of the grasse, Bulgarian, morrocan, and Turkish roses. As a foaming bath, it transforms into a rich foam infused with a fresh and slightly fruity fragrance.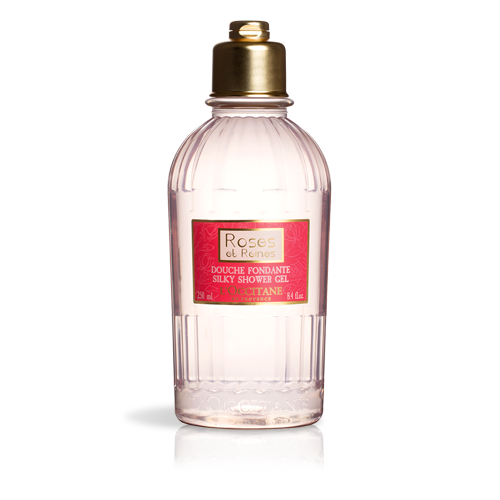 Just like the body milk, it comes in a sturdy plastic bottle with flip top cap in golden color. No risk of leaking and causing a mess for sure, that's why I love this kind of packaging. Even tho, some might thought this bottle is too simple and conventional.
As for the color and texture, it has light tea color (and transparent of course) and very silky in texture. While using this shower gel, you'll somehow feel like your skin is covered with silk.
The fragrance is still in a perfect amount – not too soft but not too strong. This is super relaxing, both for women who use this product and the other who smells the scent. This baby doesn't a pro in moisturizing, that's why you'll need to use another moisturizer right after bathing.
Price: IDR 350.000 (250ml)
L'occitane Roses et Reines Eau de Toilette
This perfume comes in a very simple, round, and clear glass bottle with grooves running lengthwise. It isn't awfully fancy but surely simple and cute enough to put on your vanity. The perfume liquid is tinted in a soft pink shade.
This baby has an elegant and silky rose scent with fresh fruity accent, just like her sisters above.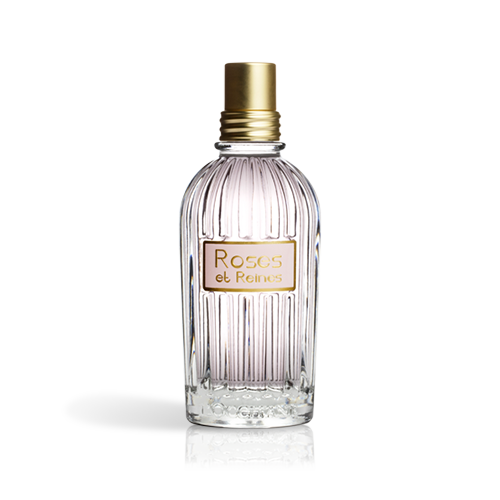 Top notes: bergamot, cassia
Middle notes: Bulgarian rose, grasse rose, Turkish rose, Moroccan rose, blackberry
Base notes: white cedar extract, heliotrope, musk
On first impression I can detect a tiny amount of citrus but quickly the rosy middle notes engulf the senses. Roses et Reines isn't a complex scent, its more onto highlighting the rose scent. With the blackberry and bergamot inside, it does have a fruity twist while the musk and cedar warms up the rose by a tiny bit amount. This rose fragrance can stay around me for quite a few hours.
Overall, this is simple and lovely rose perfume to grab around, for those rose and floral scent lovers, or simply you with feminine and elegant preference.
Price: IDR 895.000 (75ml)
Thanks for coming by, see you on my next post, babes!